REFUGEE JOURNEY
The following graphics depict the complex series of events that often occur as a result of forced displacement. This journey is told from two critical perspectives: refugees and the communities that host them. You will also learn of RSN's unique approach and role within this journey.
Refugee
Every two seconds someone abroad flees home due to war, conflict, or persecution. Currently, there are an estimated 25.9 million refugees worldwide experiencing the devastating disruption of forced migration. What is it like to be uprooted from your home?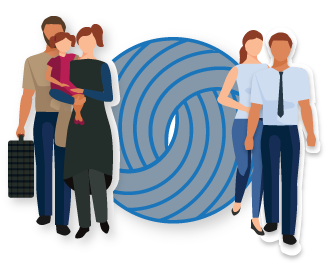 Start Journey
host
85% of the world's refugees reside in developing countries, and most of them seek safety in a place that neighbors their own. What is it like for places with limited resources to host those who have fled danger?