RSN co-hosts workshop on potentials of pro bono in Turkey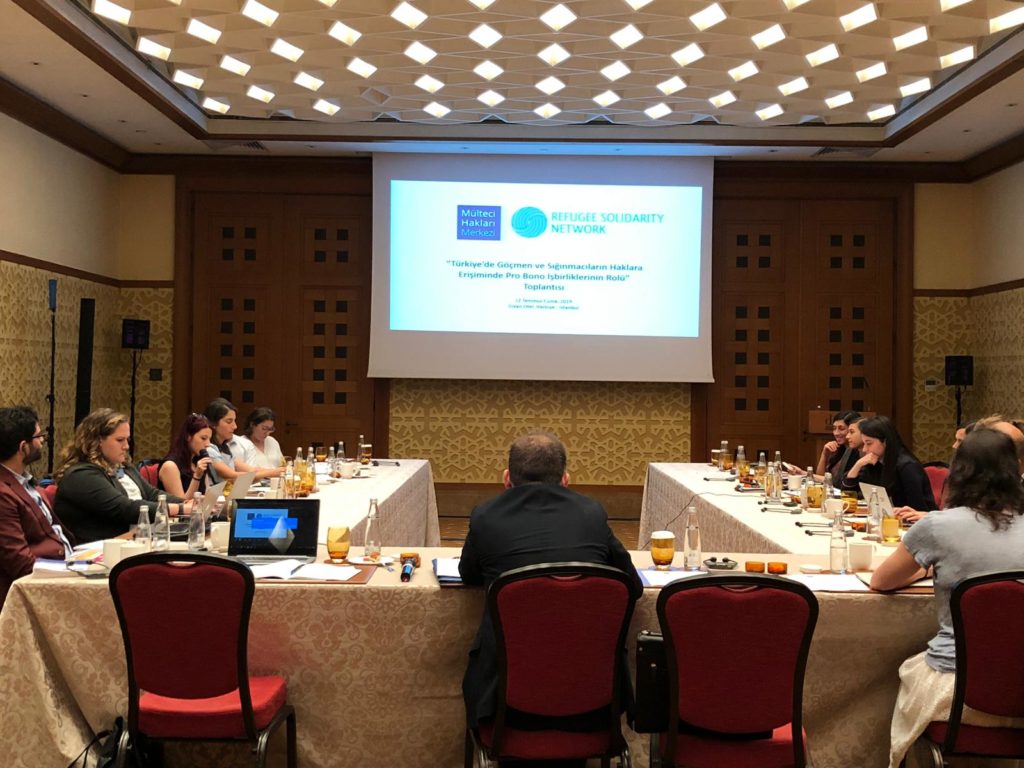 July 12, 2019
On July 12th, RSN and Refugee Rights Turkey (RRT) jointly hosted a workshop in Istanbul on the potentials and challenges of mobilizing pro bono partnerships between NGOs and law firms to help strengthen the legal protection of refugees and other vulnerable migrants in Turkey.
Turkey currently hosts over 4 million asylum seekers and refugees, mainly from Syria but also from Afghanistan, Iraq and Iran, among other countries of origin. Furthermore, over 200,000 irregular migrants are apprehended by Turkish authorities annually, mainly while in transit in Western and Eastern border regions, the majority of which originate from the very same countries torn by war and persecution and are therefore considered persons in need to access to asylum procedures. While services offered by the state-funded legal aid scheme and dedicated legal services by NGOs such as RRT play an important role in helping address the legal assistance needs of these groups, the current supply of specialized legal assistance services to asylum seekers, immigration detainees and other vulnerable migrants in Turkey falls dramatically short.
In this context, RRT and RSN aim to explore the currently untapped potential of law firms as pro bono service providers to help address a portion of the huge legal assistance needs of refugees and migrants in Turkey. Pro bono is a relatively new concept in Turkish legal professional community, but there is a growing interest particularly among corporate law firms. As such, RRT and RSN seek to promote pro bono engagements benefitting asylum seekers and migrants among law firms in Turkey. Towards this objective, in December 2017 RSN published a research paper on pro bono partnerships in the US context that benefit asylum seekers and migrants. Subsequently, in September 2018, RSN facilitated a study visit to the US for RRT staff, to meet with non-profits and law firms involved in such partnerships. In early 2019, with the help of RSN, RRT launched pilot pro bono partnership projects with White and Case Turkey and Dündar & Sır, two distinguished Istanbul-based law firms.
The July 12th workshop in Istanbul brought together representatives from RRT, RSN, White and Case Turkey and Dündar & Sır as well as Center for Legal Aid in Bulgaria, another RSN partner organization which has been experimenting with pro bono partnerships in Bulgaria context. Workshop discussions took stock of the progress made in the ongoing pilots and explored ways to expand pro bono engagement for refugees and migrants among law firms in Turkey.